Curved Tempered Glass
The curved glass tempering furnace is adopted in the float glass sheet is heated to the softening temperature around, and then rely on self or external pressure glass bending into the desired shape, and then its rapid and uniform cooling. According to the need to be processed into bent tempered sandwich, bending tempered insulating, curved tempered coating, such as insulating composite glass products, provide personalized products to building curtain wall and interior decoration.
Characteristics:
1. The strength of the bend toughened glass is 3~5 times of that of the general bending glass.
2 using horizontal bending steel, quality stability.
3 both sides of the concave convex surface can achieve the same good quality, especially in the case of reflecting glass bending, the utility model has the obvious visual quality.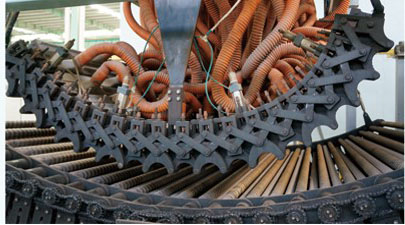 Application field:
1 Can be processed into insulated curved tempered glass.
2 Wave type and bending type building glass curtain wall. Such as: office buildings, shopping centers, air stations, music hall.
3 arc revolving door, landscape elevator outer cover.
4 arc stairs, handrails, skylights, tunnels, winding staircase
5 arc aquarium, display cabinets, modeling furniture.
6 Arc office cubicle.